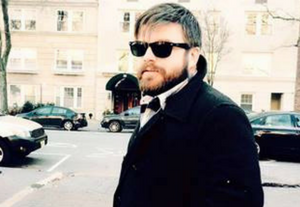 Yo! What's up Rockford?!
First, let me say how stoked I am to be a part the this badass station and play the best music around for you guys & gals!! Little bit about me…I was born and raised on a farm just outside of Madison, WI. Yes…I know…I'm a cheesehead. And yes, I am a die-hard Green Bay Packers fan. I hope we can still be friends.
I LOVE rock music. I'm like a junkie that needs a fix. I have been doing rock radio for over a decade. I've been to more concerts than I can count, met and interviewed some of my idols, own a stack of band t-shirts that almost touch the ceiling and a CD/record collection that is almost at the 'this guy must be insane' amount. But hey, that's why we are all here, right? 'Cause we love rock music. Rock fans are the best in the world and I'm so happy I get to share that passion with you!
I'm married to a drop-dead-gorgeous woman who is waaaaay out of my league. I call her KiKi. If you hear me telling embarrassing stories about her, now you know who she is. We have two, little pain in the ass dogs. I love doing things outdoors. On the weekends, you'll find me camping, canoeing or kayaking, riding my longboard… whatever I can in the summer sunshine. In the winter, I'm skiing or shoveling out a path to the fire pit. KiKi won't let me get a snowmobile, so those are my only two options. I also love beer and whiskey. Those two things are present during most activities as well.
Honestly, that's it.
Nothing too fancy from me. If you ever want to know anything about me or even just shoot the shit, feel free to hit me up! I'm always down for a good chat.