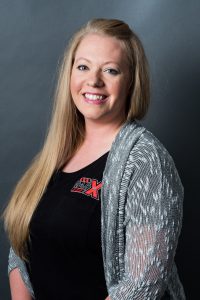 Hey, hey, hey! I was born and raised on the South-side of Chicago, which makes me by default, a die hard White Sox fan. Don't worry, I won't bash your beloved Cubs, but I will trash talk your Packers.
I've been doing this radio thing now since 2010, the majority of my time here on the Rockford radio dial. I ran an independent internet radio station that played only unsigned artists for a few years, which is where I hired my first employee in radio… Kev, my other half of The Morning X. So yes… I still believe I'm the boss of him, even though I'm not.
Us radio peeps will always tell you, live concerts are our favorite place to be. I once gave a nervous cop a pep-talk at a Rage Against the Machine show and I unknowingly sat on Billie Joe Armstrong's lap at an Alien Ant Farm show. I love live shows so much, I got married at a concert venue on stage.
Although I'm a rocker, I'm also a lot like your grandma. I cut coupons, crochet blankets, paint and spend a lot of time trying to remember where I left something. I'm a new mommy to my favorite little girl, Harlow, who is the greatest thing that has ever happened to me. Cliche, but true.
I'll bring the beer, you bring the pizza.
The largest Rockford IceHogs hockey fight that ever broke out at The BMO Harris Bank Center was caught on camera. Tweet Share Pinterest Email...
Read More