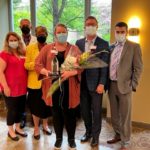 ROCKFORD — UW Health has awarded Katie Mistler with the Dr. Henry C. Anderson Quality Individual Award, which recognizes an employee who provides outstanding care and education to patients.
The award was presented to Mistler by Travis Andersen, CEO of UW Health Northern Illinois, on Tuesday at UW Health SwedishAmerican Hospital.
Mistler, who is the director of the Center for Mental Health at SwedishAmerican, was nominated due to her her commitment to her unit.
Part of her responsibilities are to manage the 42 licensed beds in her unit, which averages 23 patients per day, according to UW Health Northern Illinois.
She was also recognized for her involvement with the behavioral side of the Mobile Integrated Health program. This program involves partnership with the Rockford Fire Department in order to better address clinical needs that arise.
"Katie role models what it means to be creative in order to work with a less-traditional population in a manner that is professional and respectful," said Ann Gantzer, chief nursing officer at UW Health in northern Illinois. "She ensures human dignity and trust and expects the same level of integrity and quality with the staff that represents us."
The award was named in honor of SwedishAmerican physician Dr. Henry C. Anderson. Anderson began as a primary care physician in 1955, and after 34 years he joined the administrative staff. He then served as vice president of professional affairs and chief quality officer.
This article is by Mary Sisk. Email her at msisk@rockrivercurrent.com or follow her on Instagram at @maryrrcurrent