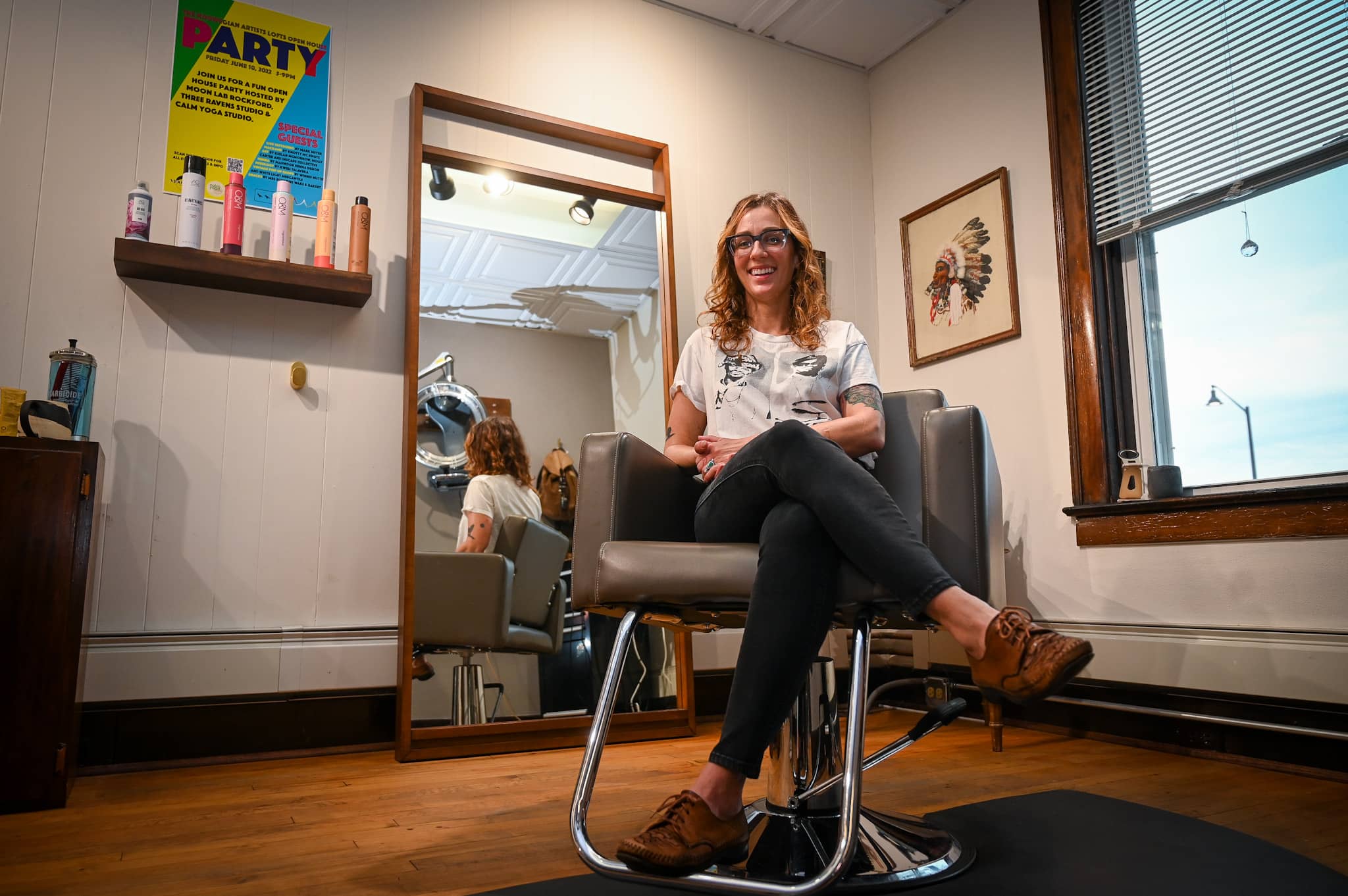 ROCKFORD — Tucked above The Norwegian restaurant is a group of business owners and artists who want to connect with customers and bring more activity to the North End neighborhood.
"We want to get people up here and see how pretty the spaces are," said Amy Shenk, owner of Moon Lab Rockford. 
Shenk, who moved to the lofts during the pandemic, felt like she wasn't able to have a grand opening for her salon. This inspired her to coordinate a party-like event taking place from 5-9 p.m. on Friday.
"I feel like since I've been here for a year and a half already I missed the bow undoing, like the grand opening," Shenk said. "I want to have a party."
Shenk put together a group of 13 small business owners who invite all to their first open-house party on Friday to encourage shopping local on North Main Street.
There will be family yoga classes in the morning, live tattooing by Mark Meyer, custom henna temporary tattoos by Mahnoor Henna Design, pop-up vintage shops from White Light Mercantile and Winnie Nutter, macrame for sale by Knotty McKnots, new art on the walls by Keelan McMorrow, Inscape Collective and Molly Carter, and snacks from Mrs Buckbee's Wake & Bakery and mixology by Kwesi Talavera.
The event will be hosted by Moon Lab Rockford, Three Ravens Studio and Calm Yoga Studio, who will all have individual activities in their spaces. 
The Norwegian Artist Lofts tenants, located at 1404 N. Main St., share a space above the restaurant. It's a setup that Shenk says is more common in cities like Chicago, but she hopes Rockfordians will learn to like it, too.
"I don't think people in Rockford are used to businesses being off street level," Shenk said. "It's definitely  intimidating."
The event is free to attend, but multiple businesses will be accepting donations to charitable causes such as Save Bell Bowl Prairie and the Rock River Valley Food Pantry.
Know before you go
Address: 1404 N. Main St., Rockford.
Event hours: 5-9 p.m., but Calm Yoga Studio will be holding classes throughout the day.
Admission: Admission is free, but featured businesses will be accepting donations to local charities.
This article is by Mary Sisk. Email her at msisk@rockrivercurrent.com or follow her on Instagram at @maryrrcurrent