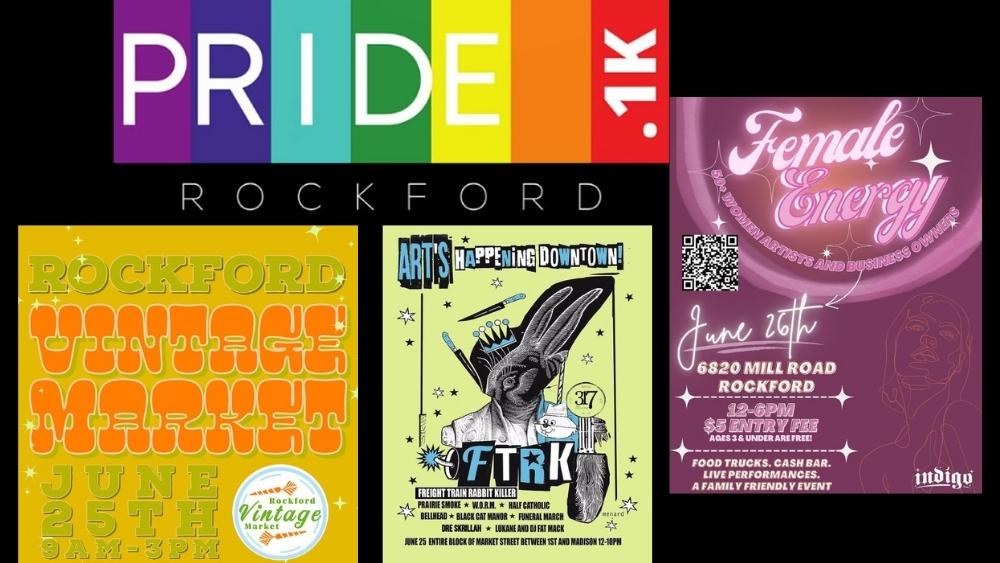 ROCKFORD — This weekend is full of fun things to do in Rockford, and you won't want to miss any of them.
Here are some top our top picks:
Feeling like celebrating women?
Visit Female Energy hosted by Evangelina Jimenez of Indigo Rockford.
The event will feature 70 vendors, music, food trucks and more fun. Anybody is welcome to attend and celebrate female artists, business owners and other creatives.
Where: IBEW Local 364 banquet hall, 6820 Mill Road, Rockford
When: noon-6 p.m. on Sunday, June 26
Admission: $5, free entry for children 3 and younger
More information: Visit Indigo on Instagram @indigo.rockford and donate to support the event here.
Feeling artsy?
Visit Arts Happening Downtown hosted by 317 Art Collective.
The downtown event will feature live music, eight themed art installations, food trucks and endless things to do.
Where: The 300 block of Market Street between Madison and First streets
When: Noon-10 p.m. Saturday, June 25
Admission: June pre-sale: $12 (ends June 23) available for purchase here; Day of onsite: $15.
Additional information: artshappeningdowntown.com
Feeling like showing support for the LGBTQ+ community?
Visit B103's .1K Pride Run/Walk at The Office NiteClub. 
A portion of the proceeds will be donated to The Liam Foundation Rockford, which provides services and resources for the LGBTQ+ community.
Where: The Office Niteclub, 513 E. State St., Rockford
When: Noon to 3 p.m. Saturday, June 25
Admission: $25 for adults, including a T-shirt and goodies. Free entry for children 18 and under
Additional information: rockrivercurrent.com
Feeling vintage?
Visit the Rockford Vintage Market downtown.
The event is one day only and will feature numerous vintage vendors, live music, food, vintage-inspired cocktails and more. The event is also run by the Rock River Development Partnership.
Where: The Rockford City Market pavilion. Water Street, Rockford.
When: 9 a.m. to 3 p.m. Saturday, June 25
Admission: Free
Additional information: @RockfordVintageMarket
Feeling sporty?
Visit the Fred VanVleet Fest, which has multiple events starting with bowling on Thursday and concluding with a two-day basketball camp for youth on Saturday and Sunday.
Here's the rundown:
Bet On Yourself Bowling
Where: Cherry Bowl, 7171 CherryVale N. Blvd., Cherry Valley
When: 6-10 p.m. Thursday, June 23
About: The event features cosmic bowling, a silent auction, prizes, music and other activities. You can purchase a time slot from 6 p.m. to 7:30 p.m. or 8:30 p.m. to 10 p.m.
Cost: $100 per time slot, includes bowling and shoe rental for up to five people per lane.
FVV Experience 
Where: Auburn High School, 5110 Auburn St., Rockford
When: 5-9 p.m. Friday, June 24
About: There will be on-court activities, games, giveaways, and 3-point and dunk contests. Children under the age of 14 must be accompanied by an adult, and no outside balls will be allowed in the facility.
Cost: $5 per person. Kids registered for FVV Summer Camp are admitted free.
FVV Summer Camp
Where: Auburn High School, 5110 Auburn St., Rockford
When: 10 a.m. to 3 p.m. Saturday-Sunday, June 25-26. (K-3rd grade camp runs 10 a.m. to noon)
About: The weekend basketball camp is open to boys and girls in grades K-12 and serves as the finale to FVV Fest. Participants will receive a T-shirt, lunch and training from Fred VanVleet and other basketball trainers, coaches and other experts.
Cost: $100 per participant
You can register at any of the events at FVVFest.com.
---
This article is by Mary Sisk. Email her at msisk@rockrivercurrent.com or follow her on Instagram at @maryrrcurrent