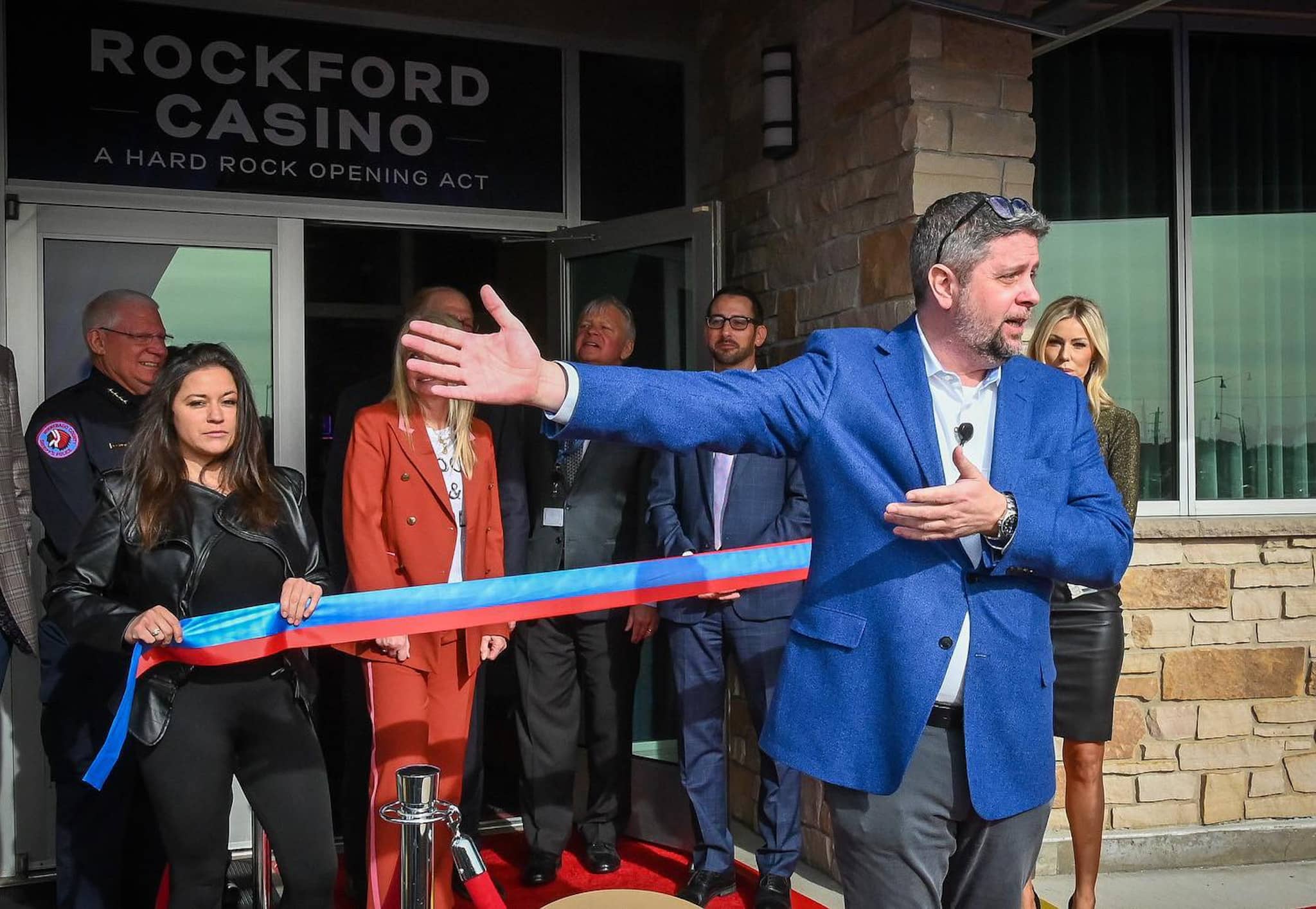 ROCKFORD — Geno Iafrate said when he came to Rockford to open Hard Rock's casino he was surprised to learn the city didn't have a culinary school.
It could have one in the future if Hard Rock's "leading idea" comes to fruition, Iafrate said Thursday during The Update, a new quarterly series from the Rockford Chamber of Commerce.
Hard Rock is running its temporary casino, dubbed A Hard Rock Opening Act, out of the former Giovanni's at 610 N. Bell School Road until it opens its full casino resort.
"Our leading idea, and we've got a lot of work to make that happen, but our leading idea is to somehow, someway turn the Giovanni's location into a hospitality-slash-culinary school," he said.
Iafrate said that was one of a variety of ideas being considered for the site.
Iafrate kicked off the chamber's series with a speech that detailed Hard Rock's past, its present at its temporary casino and its future 180,000-square-foot resort along East State Street near the Interstate 90 interchange.
He said he couldn't yet answer the question on many people's mind: When will the full casino open?
"We are working very closely with the Illinois Gaming Control Board. We're working as fast as possible," Iafrate said.
Right now construction crews are building foundations, footing and other underground work.
"It's a complex underground process at the moment," he said.
Construction timeline
Attendees at The Update got a brief — very brief — glimpse at new renderings of the future casino. Iafrate flashed the images on a power point screen for only a moment before saying they couldn't be released yet.
"Nobody outside the Hard Rock and our architectural team has seen this," Iafrate told the crowd in a lecture hall at Northern Illinois University Rockford on East State Street.
The renderings showed the resort with a giant replica of one of Rick Nielsen's guitars out front.
Iafrate said steel for the future casino is expected to arrive in March, at which point the construction will start to move vertical.
"At that point you're going to see stuff change," Iafrate said. "The goal is to be completely closed in by the end of the summer, and then we start doing the monotonous internal work."
He said that a hotel on the site will wait until future phases of construction because of supply chain issues and inflationary pressures.
"We tried very hard to get the hotel tower in Phase 1," he said. "What used to cost $50 million now costs $85 million. So in Phase 1 we're just not going to be able to get that hotel built, but it's going to come as soon as feasibly possible."
The future casino will be Leadership in Energy and Environmental Design, or LEED, certified. It will be the first LEED certified casino in the state, Iafrate said.
Coming soon
While it works to build the future casino, Iafrate said Hard Rock is still making additions to A Hard Rock Opening Act.
Next up is the addition of live table games to its array of 635 video slots and gaming machines. Dealer training is ongoing now as Hard Rock seeks permission from the Illinois Gaming Board to add blackjack, Ultimate Texas Hold 'Em and Three Card Poker.
There are also plans to allow for sports betting.
"We were hoping to have the sports book by the end of 2022. It's taking a little longer than expected," Iafrate said. "We will have, in the temporary, live table games soon and a sports book opening soon."
There will be six live table games at first with the possibility to expand.
Iafrate also said there will be live table games and a poker room at the future casino. There will also be seven restaurants, a retail store and a live entertainment venue with around 1,300 seats.
Charitable giving
Hard Rock generated $53.2 million in gaming revenue and $10.8 million in gambling taxes from nearly 460,000 admissions during its first year in business.
The company has also donated more than $275,000 to dozens of different charitable organizations in town in its first year in business. Iafrate also said the company also donates its time to doing park cleanups, river cleanups and other volunteer work.
"We want to make sure our community is a better place for all of us to live," Iafrate said. "There's more work to be done, but I think in our first year — 14, 15 months at this point — I think we've done a really good job of making sure we're a vibrant part of this community."
---
This article is by Kevin Haas. Email him at khaas@rockrivercurrent.com or follow him on Twitter at @KevinMHaas or Instagram @thekevinhaas.