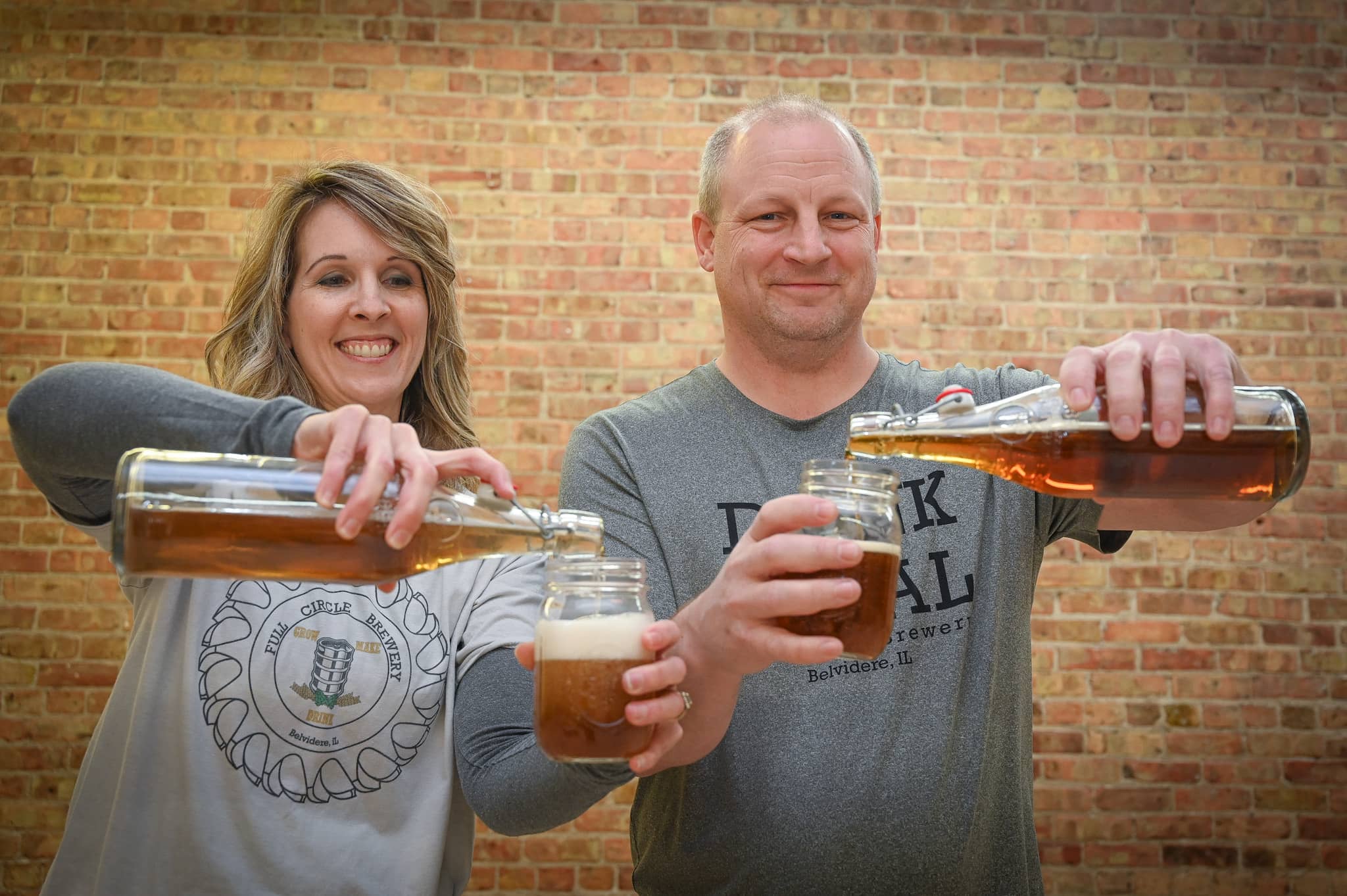 By Paul Anthony Arco
Special to the Rock River Current
Download our mobile app
BELVIDERE — Whenever Belvidere natives Ryan and Cheryl Morris take a vacation they always make time to check out the local breweries.
"Our most recent vacation was to Virginia Beach," Cheryl said. "We took in a few breweries – we enjoyed the atmosphere. Some places have trivia nights, others have games for the kids. We tried a variety of beers. We call it research and development."
Soon, the couple won't have to go far to hang out their at their favorite brewery. This summer, they plan to open Full Circle Brewery at 515 S. State St. in downtown Belvidere.
"This is truly unique for Belvidere," Cheryl said. "We looked at other areas but in terms of what commercial space was available, we always came back to Belvidere. This is our home, our town."
Ryan is an operations manager for a local company, and Cheryl has been a stay-at-home mom for 21 years. This is their first business venture.
"This sort of became a passion project for us," Cheryl said. "Ryan started home brewing/growing his own hops six years ago in a brew room in our home. He's self-taught. He's watched videos, done a lot of experimenting and he's a fast learner. He has an engineering background, detailed oriented and catches on quickly."
Cheryl's affinity for beer came much later than her husband's.
"After Ryan started brewing his own, I started to prefer beer over other drinks, especially his fruited beers."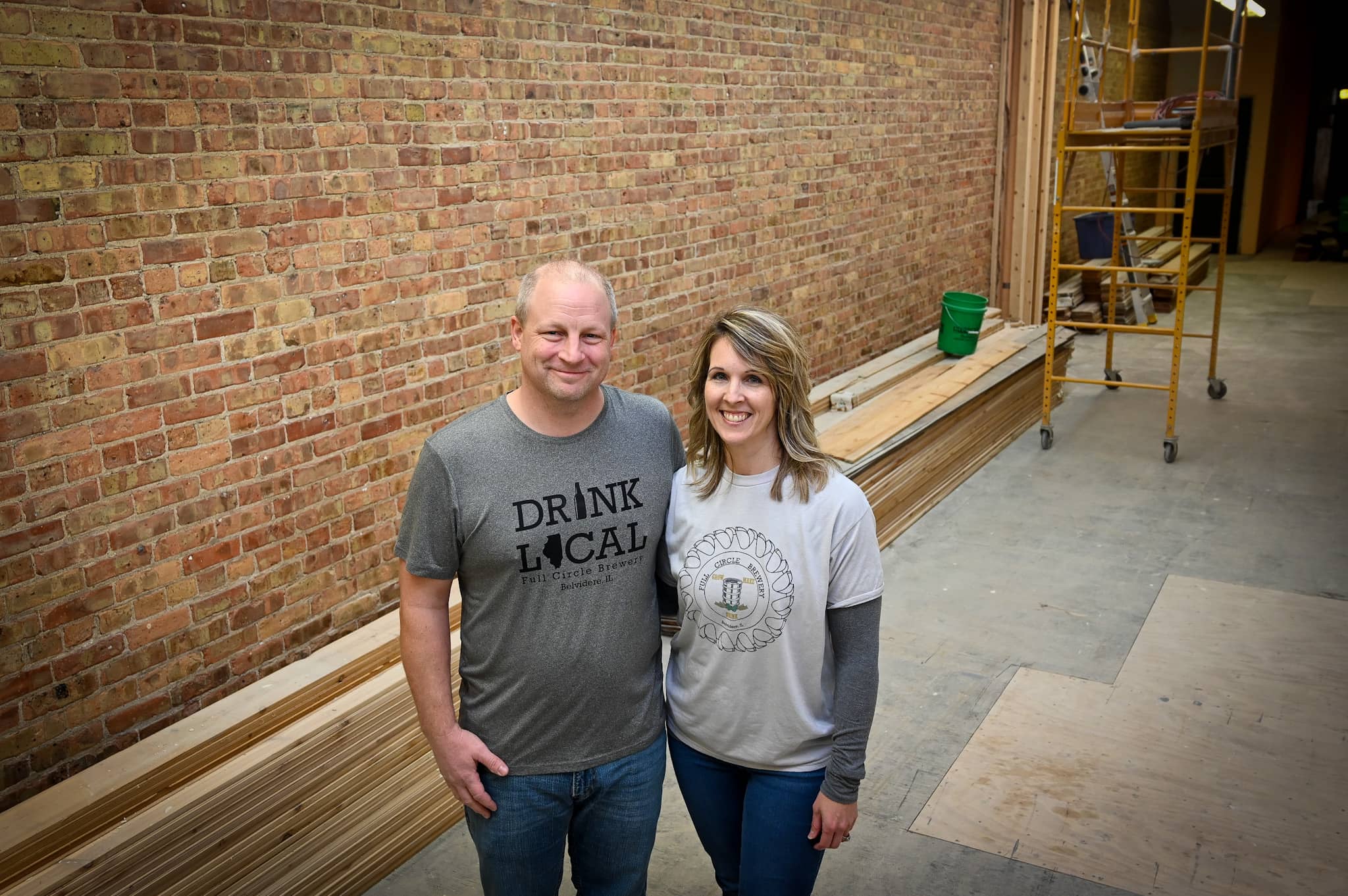 The Morrises purchased a downtown building that Cheryl said used to house a travel agency but has sat empty for years. For now, the Morris's are busy working on applications and permits with local and state agencies. They are doing their own renovations, which include updating the electrical and plumbing.
"We are hoping to be open by the end of the summer, but that depends on a lot of factors," she said. The space is 3,300 square feet, but Cheryl said it won't all be renovated by opening day.
She estimates there will be seating for 70-80 people. There will be no gaming slots, but plans are in the works for trivia nights and possibly live music and private events.
To start, Full Circle Brewery will be open Thursday to Sunday from 4 to 10 p.m. The brewery will offer bar snacks, but customers are welcome to order-in their own food.
Ryan and Cheryl will run the business themselves at first, but they could hire additional help later on. Cheryl
describes the décor as urban farmhouse.
Beer lovers can expect a variety of brews on tap.
"The most popular among our friends and family is vanilla ale," Cheryl said. "Ryan also does IPAs, pilsner, sours, and he'll throw a stout in there. Fruited beers will include cherry wheat, raspberry, and blueberry."
Full Circle Brewery will be a three-barrel brewhouse with tanks and fermenters on site. The brewery equipment will be located behind the bar and serving area. The owners plan to eventually upgrade and brew at a higher capacity in the future.
"We will continue to grow our own hops, and we plan to make any grains left over available to local farmers for animal feed," Cheryl said.
Michelle Gonzalez is Cheryl's sister, but also a fan of Ryan's brews.
"I am beyond excited and so is the community," the Belvidere resident said. "Everywhere I go, I'm asked when is their place is going to open? I think a place like this, with the events they have planned, can help bring the community closer together in some small way."
That's the hope, at least.
"It's exciting for us to have so much support," Cheryl said. "We want people to know that Full Circle Brewery is going to be a place with a laidback atmosphere and good beer."
---
This article is by freelance journalist Paul Anthony Arco. You can email feedback to news@rockrivercurrent.com.