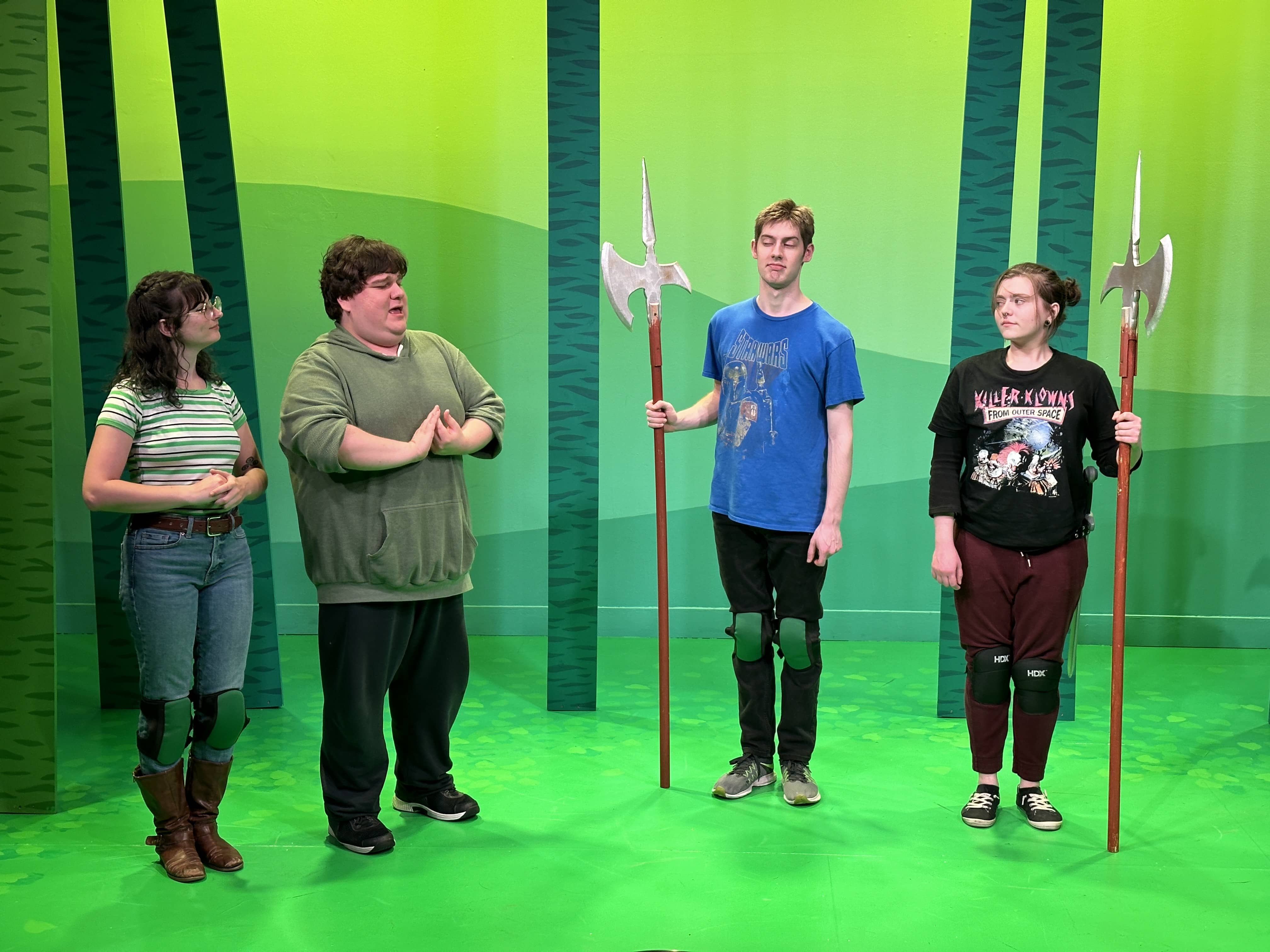 ROCKFORD — A new play at the West Side Show Room put a twist on the classic tale of Robin Hood: The hero has been Maid Marian in disguise all along.
"Marian, or The True Tale of Robin Hood" by playwright Adam Szymkowicz debuts Friday at the theater, 1414 N. Main St.
The play was in the news last month after it was banned by a high school in Indiana because of its gender-bending and LGBTQ+ elements. West Side Show Room's artistic director says the play is fairly innocent with no profanity, some ridiculous jokes and cheeky innuendo.
"Marian is a typical romance adventure story just like the Errol Flynn Robin Hood," said Epic Jones, artistic director. "What makes this play different and perhaps controversial in today's political climate is the inclusion of characters in drag."
The play fits with West Side Show Room's commitment to diversity and inclusion in its performances. It has pushed forward the conversation about gender in the performing arts since opening a decade ago. Its 2019 production of "Men On Boats," for example, featured a cast of 10 women playing male characters.
Earlier this year, it put on the fist play in the city with a role written specifically for a transgender actor. The cast of "Marian" also has several non-binary and transgender actors.
"Many of our plays ask interesting questions about gender, and Marian is no different," Jones said. "In some of the original Robin Hood tales, which were first written in the 13th century, Maid Marian was portrayed as a tomboy who dressed up like a man in order to join the Merry Men. This play takes it one step further by asking 'what if Robin Hood actually was Maid Marian?'"
In "Marian," the Merry Men are also portrayed by actors who are, for the most part, not men.
Elise Campbell plays the role of Marian/Robin Hood, and Christopher Harris portrays the love interest Little John.
Friday's debut show is free. Donations are accepted.
---
Know before you go | "Marian"
Where: West Side Show Room, 1414 N. Main St., Rockford
When: Friday, April 28 through Saturday, May 13
How much: Friday's debut show is free (donations accepted); Tickets to other shows are $20 for adults or $10 for students
Runtime: 90 minutes
Show times: 
Friday, April 28 –  8 p.m. (free show)
Satuday, April 29 – 8 p.m. (Medieval costume night)
Sunday, April 30 – 4 p.m. (Q & A Talk Back)
Thursday, May 4 – 7 p.m. (Q & A Talk Back)
Friday, May 5 – 8 p.m.
Saturday, May 6 – 8 p.m.
Sunday, May 7 – 4 p.m. (preshow talk)
Thursday, May 11 – 7 p.m. (Q & A Talk Back)
Friday, May 12 – 8 p.m.
Saturday, May 13 – 8 p.m.
Buy tickets: wssr.org/marian
---
This article is by Kevin Haas. Email him at khaas@rockrivercurrent.com or follow him on Twitter at @KevinMHaas