ROCKFORD — You may catch Mayor Tom McNamara handing out water to thirsty people along the Rock River recreation path today.
Paula Olson, executive director of the Miracle Mile Association, will bake cookies to share with a neighbor or coworkers.
Those were among two of the first kindness cards drawn today at a ceremony to kick off Rockford Day, an unofficial holiday meant to stoke civic pride and support local businesses. This year, the day is also being used to spur random acts of altruism through the Kindness Project put together by business owner Kim Knutson and the Miracle Mile Association.
"Just to see it carry out across the city, it means so much," said Knutson, the owner of Lallygag Boutique, 4616 E. State St.. "One little thing can mean so much to people."
The kindness cards are at 26 locations around the city. You can draw a card at random and you'll find a message on it that suggests something you can do to brighten someone's day or improve your city. The goal is for 815 such acts of kindness to take place.
"I'm speechless at just the people grabbing the cards, and they need more," Knutson said.
Rockford Day got its official start at 8:15 a.m. today, which is Aug. 15 or 8/15, in front of Rivera's Fresh Market, 3512 E. State St.
McNamara, wearing a T-shirt from Bygone Brand that states "Rockford is numero uno" under his suit coat, read a proclamation officially declaring it Rockford Day. He also encouraged people to spend time out in the community.
"If that's going to a local park and just enjoying time with your family, if that's going out today to numerous locations and doing a random act of kindness, if that's getting out and shopping at a local retailer and eating at a local eatery: Those are all ways that we can celebrate our great community," McNamara said.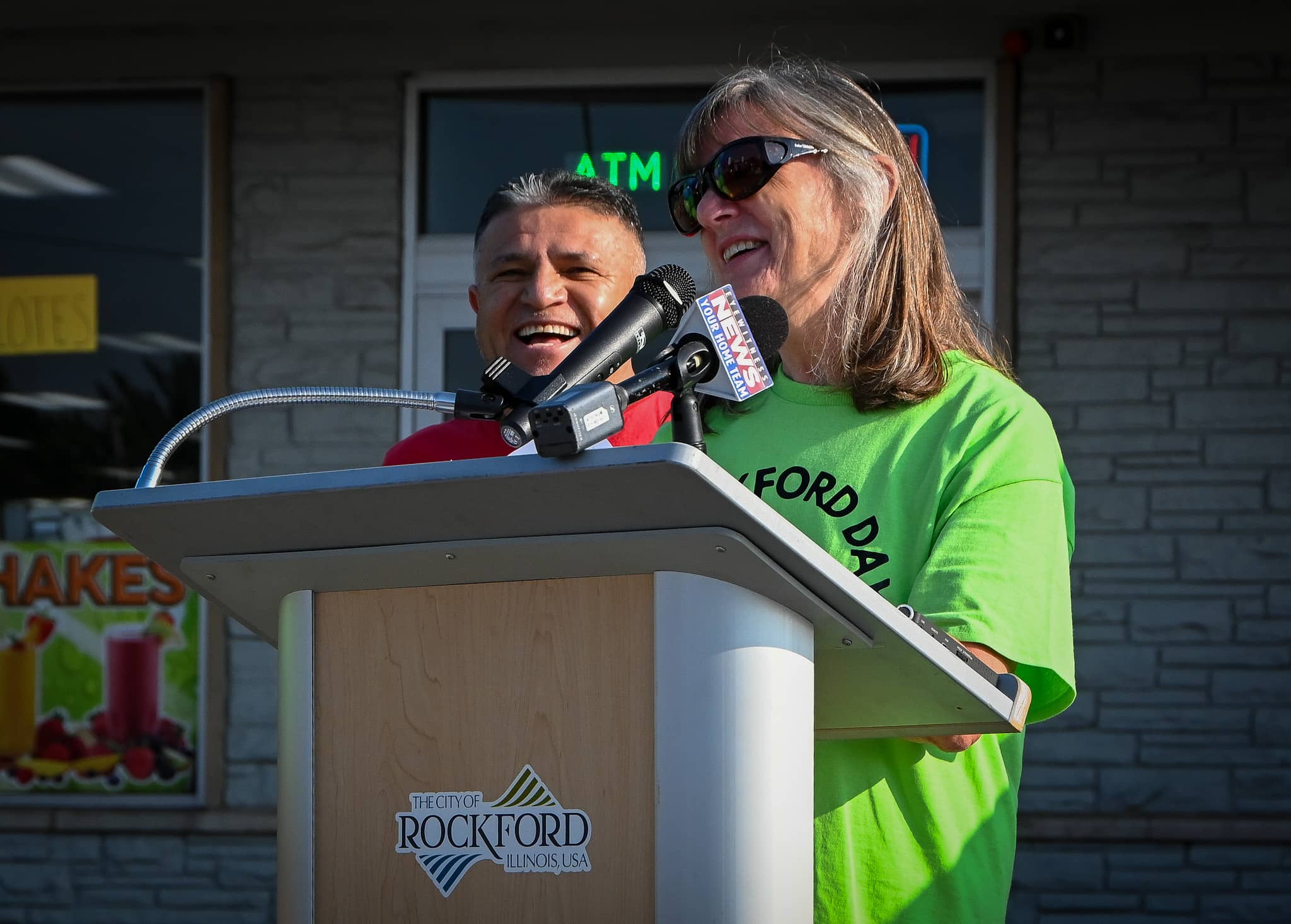 The shirt McNamara was wearing from Bygone Brand was a Rockford-centric take on the "Arnold is numero uno" shirt that became popular around the internet because of an old photo of actor Arnold Schwarzenegger wearing it in his bodybuilding days.
The Rockford-based company sells nostalgia-inducing shirts and merchandise from places around the country, including Rockford throwbacks such as the Peaches, Magic Waters, the Cubbies and other logos from the past.
"We don't typically do rah-rah Rockford," said Keith Watson, who owns Bygone Brand, 3600 E. State St., suite 1C, along with his wife, Amy. "We'll bring certain ones like that out for Rockford Day."
Rockford Day has been running for seven years now. You'll find pop-up celebrations such as a downtown picnic party at North First and State streets, art on display at the Rockford Chamber of Commerce offices and deals and specials at dozens of local businesses.
McNamara said 815 Day is a good day to focus on lifting up the community.
"Whatever any of our differences, we're all Rockfordians," he said. "We need to make this community a better place and we need to celebrate where we live."
---
10 things to do on Rockford Day
Here are 10 options for things to do to celebrate Rockford Day.
Check out local art
About: The Rockford Area Arts Council will have work from local artists on display and for sale. It also has printed maps with the details of public art projects, including the 55 new utility box wrap installations. You can pickup a map and an Art is Power sticker.
Where: 713 E. State St., Rockford
When: 9 a.m. to 5 p.m. Tuesday, Aug. 15
Perform a random act of kindness
About: Kim Knutson of Lallygag Boutique and the Miracle Mile Association are partnering with more than two dozen organizations to inspire random acts of kindness across Rockford.
You can go to any of the 26 locations, draw a card and follow the tip for a random act of kindness on the back. See the full list of locations at the bottom of this link.
Where: Lallygag Boutique, 4616 E. State St., and 25 other locations
More info: Go HERE.
Downtown picnic party
About: The Rockford River District Association throwing a downtown picnic party with food trucks Cheezy's Grilled Cheese, Kabao815 and Dairyhaus Ice Cream.
Where: North First Street and East State Street in downtown Rockford
When: 11 a.m. to 2 p.m. Tuesday, Aug. 15
Check out art at the chamber
About: The Rockford Chamber of Commerce will commemorate its first year in its new offices with artwork on display by Jenny Mathews, Tom McHale and Brad Nordlof. Check out the artwork and snack on cookies and coffee.
Where: 308 W. State St., suite 350, Rockford
Food trucks on the Miracle Mile
About: The Miracle Mile Association will host four food trucks at the former Magna parking lot next to Don Carter Lanes. You can choose from Quixotic Bakery, Blaz'in Magic BBQ, Takeshi Blessing Asian Cuisine and A Taste of Chicago.
When: 11 a.m. to 2 p.m. Tuesday, Aug. 15
Where: Old Magna parking lot, 3923 E. State St., Rockford
Go to Midway Village
About: Enter Midway Village Museum and its Victorian Village free of charge. You can also purchase a snow cone while you tour the grounds.
When: 10 a.m. to 4 p.m. Tuesday, Aug. 15
Where: Midway Village Museum, 6799 Guilford Road, Rockford
Truckin' Tuesday at Prairie Street Brewing
About: Prairie Street Brewing's Truckin' Tuesday event will take on an 815 Day theme with each truck having a twist on an 815 special. The food trucks on site are The Taco Shop 815, Little Nick's BBQ, Cheezy's Grilled Cheeses and The Dessert Shop 815. The dock will also be filled with games such as bags and Jenga.
When: 4 p.m. taproom opens; 5 p.m. food trucks start serving; 6 p.m. DJ Slick starts spinning on Tuesday, Aug. 15
Where: Prairie Street Brewing Co., 220 Prairie St., Rockford
Food Truck Tuesday
About: The weekly Food Truck Tuesday takes on a Rockford Day theme with a variety of games and activities in addition to the usual treats from food trucks.
When: 4 p.m. to 9 p.m. Tuesday, Aug. 15
Where: Nicholas Conservatory & Gardens, 1354 N. Second St., Rockford
Shop for specials
About: More than 60 businesses across town are offering 815 Day specials ranging from food and merchandise to activities and health services.
Where: See the full list of registered specials HERE.
Family fun at Davis Park
About: Midland States Bank will host a Family Fun Booth pop-up downtown in Davis Park with face painting, balloons, photo opportunities and a gift basket raffle. The bank will also offer financial empowerment lessons and showcase its services.
Where: Davis Park, 320 S. Wyman St., Rockford
When: 11 a.m. to 2 p.m. Tuesday, Aug. 15
---
This article is by Kevin Haas. Email him at khaas@rockrivercurrent.com or follow him on X at @KevinMHaas or Instagram @thekevinhaas and Threads @thekevinhaas