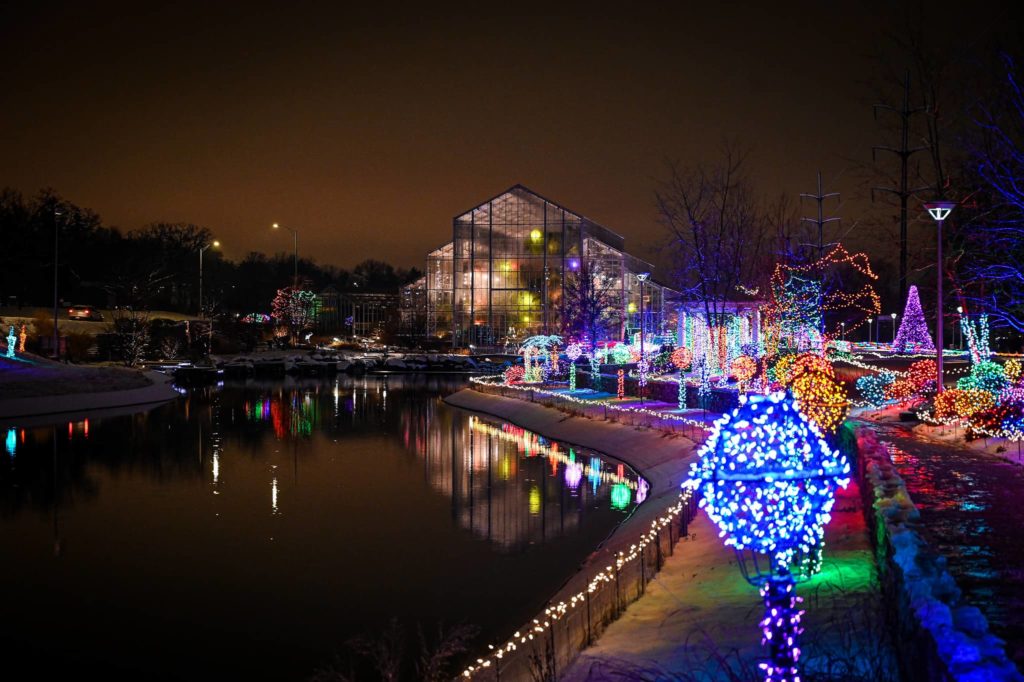 ROCKFORD — The snow is here. Before that cabin fever sets in, get outside and enjoy the beautiful Midwest winter weather. Or if being cold isn't your cup of tea, there are tons of fun events going on where you and your family can stay nice and warm while also enjoying what the Stateline has to offer.
Here are 10 ways to beat the winter blues in the area:
1. Severson Dells New Year's Day hike
Something about everything around you — nature, trees, the ground — just covered in the whitest of snow is absolutely breathtaking. Or the fact that when it's snowing, if you go outside, it's complete silence.
If you're looking for a place to see all of the beautiful Midwest winter scenery and stretch your legs, Severson Dells in Rockford is hosting a New Year's Day hike. Director Ann Wasser will guide you through the woods and grasslands as you embrace the New Year with nothing but nature around you.
Register HERE.
2. All Aglow at Nicholas Conservatory & Gardens
It's a winter wonderland at Nicholas Conservatory & Gardens' All Aglow. Stroll through the astounding outdoor gardens and enjoy light displays, light-wrapped trees and shrubs. According to its website, "All in all, the outdoor grounds will have 300,000 lights, including many "glistening" lights, adding extra sparkle to the displays."
All Aglow is happening until Jan. 9, get more info HERE.
3. Sinnissippi Station Garden Railway Display
Not feeling the cold weather? Transport yourself to a tropical setting inside Nicholas Conservatory. Seven G-scale trains travel all through the gardens over miniature Rockford landmarks. With that, there is a new landmark this season, the Coronado Performing Arts Center. If you want to build your own wooden train car, they are also hosting a Wooden Railway Workshop on Wednesday, Dec. 29 and Thursday, Dec. 30.
4. Science Through Time at the Burpee Museum
Here's an educational way to beat the cold and have fun at the same time. Ring in the new year by learning about how technology, science, and the world around us has changed through time.
At the Burpee Museum, you and the kiddos can see how a year is measured, gain knowledge of how genetics and DNA has changed, and how we use this knowledge today.
Enjoy dance performances from different cultural groups, create make-and-take science crafts, experiments, and more.
5. Rockin' Rocky's Family Skate
Indoor winter fun for the whole family! Ice skate to music under disco lights, with special appearances by facility mascot Rocky the Bear. Saturday session times are 1-3 p.m. and Sunday 2-4 p.m. at Carlson Ice Arena, 4150 N. Perryville Road, Loves Park.
6. Winter Dazzle Day with 815 Outside
Here's another way you can enjoy some outdoor fun. Nature At The Confluence is hosting a Winter Dazzle Day with 815 Outside.  Take an outdoor hike, make a pine cone bird feeder, learn about phenology, tree bark rubbing, roasting marshmallows and more.
7. Winter Farmers Market in Janesville
There is a lot to shop from at this indoor winter market. The first Saturday of each month browse from local beef to honey, to baked goods, pickles, artisans and more. This market is held in uptown Janesville.
8. 815 Ale Fest
Calling all beer lovers! Sample beers from more than 20 different breweries all under one roof at the Indoor Sports Center at Mercyhealth Sportscore Two on Jan. 15. Not only will your ticket purchase go toward supporting youth soccer at the Rockford Park District, but you'll also receive a tasting glass and a pretzel necklace.
9. Sledding, DUH!
The first thing that kids want to do when the snow falls is go sledding! Levings Lake Park, Sinnissippi Golf Course and Twin Sister Hills Park are the designated areas within the Rockford Park District where you and your family can sled. However, sledding is not allowed at Aldeen Park or Sand Park.
10. Food adventure
There are so many amazing restaurants and bakeries here in the Stateline, make a day of it and taste all of what Rockford, Byron, Janesville, and the rest of the surrounding area has to offer. From authentic Italian food to tacos to deliciously baked cupcakes, visit some of your favorite places or somewhere new, who knows maybe you'll find a new favorite. Our friends at GoRockford.com have a full list of some of the best places in the area.
This article is by Chelsea Meyer. Email her at chelsea@b103fm.com.