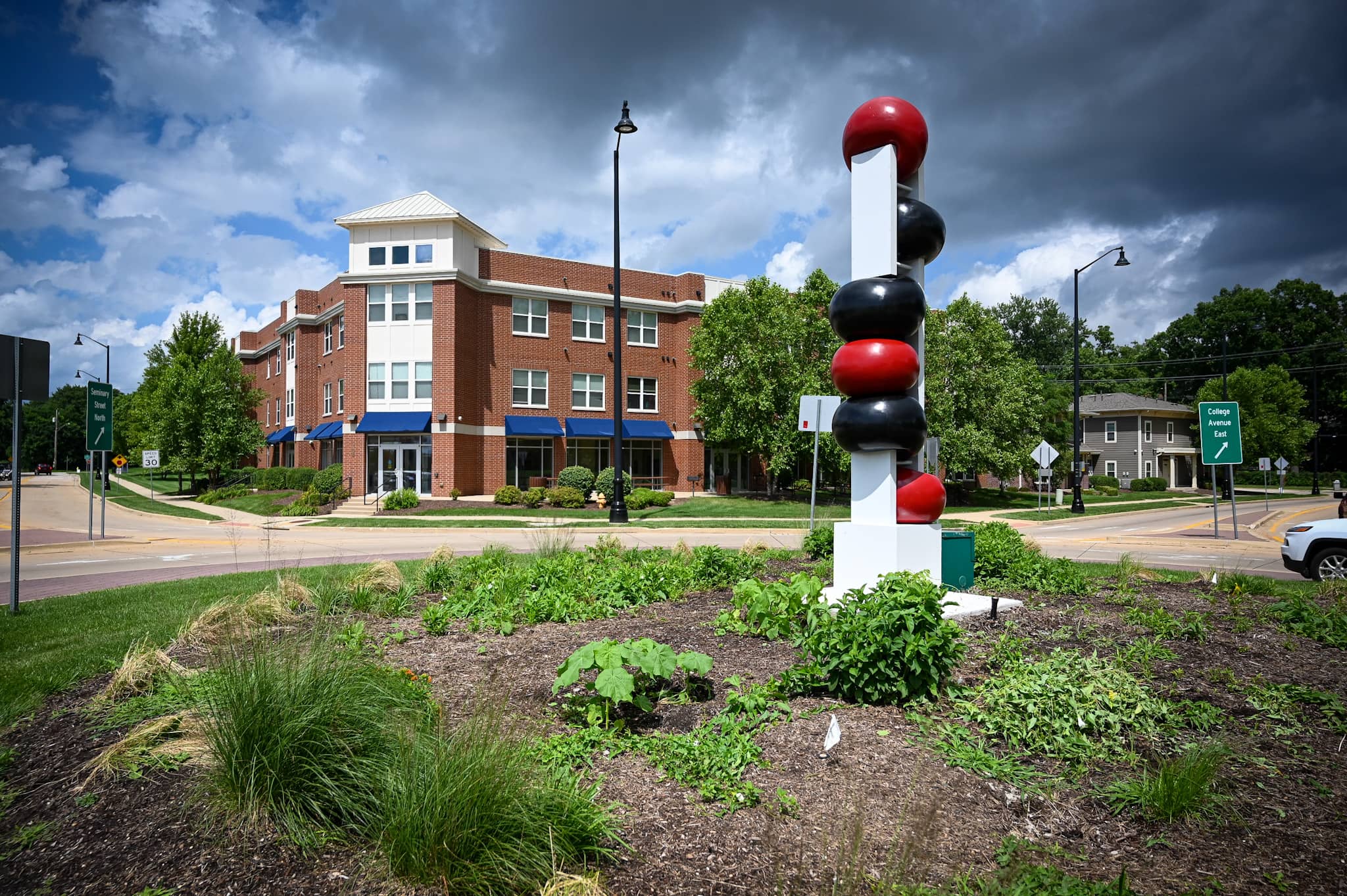 ROCKFORD — What you see at the center of the roundabout at College Avenue and Seminary Street is yours to interpret.
Some will see the city's newest piece of permanent public art as balloons, or lollipops, or as simple black-and-red spheres on a white column.
Chris Newman, the Chicago sculptor behind the abstract creation, has his interpretation, too. But he's not going to tell you what to think.
"The sculpture has its message in everybody who will look at it, rather than the message that was in the head of the sculptor when he was making it," Newman said of his 13-foot tall creation. "Seeing art is non-verbal. You don't see art because you can explain it. You see art because you see it, you think it, you react to it, you have an emotion about it."
Newman joined with members of the Rockford Area Convention & Visitors Bureau and city of Rockford on Wednesday to mark the sculpture's return to the city and its new, permanent home at the roundabout.
Newman's piece was originally installed in 2018 in the 100 block of East State Street near the Rockford City Market entrance as part of the CRE8IV: transformational Art initiative. The sculpture was on temporary loan at the time, and it was returned to Newman's studio to be fully restored. Now, he has donated it to the visitors bureau for permanent display here in the ORCHiD neighborhood.
"The ORCHiD neighborhood is one of the most passionate, invested neighborhood groups in our community," said Barb Chidley, neighborhood specialist for the city of Rockford. "They are constantly trying to build relationships (and) improve quality of life for the residents in the neighborhood."
"The beautification that this adds, the meaning, the significance, all helps to support a group that is so committed to both our community and the residents of this neighborhood."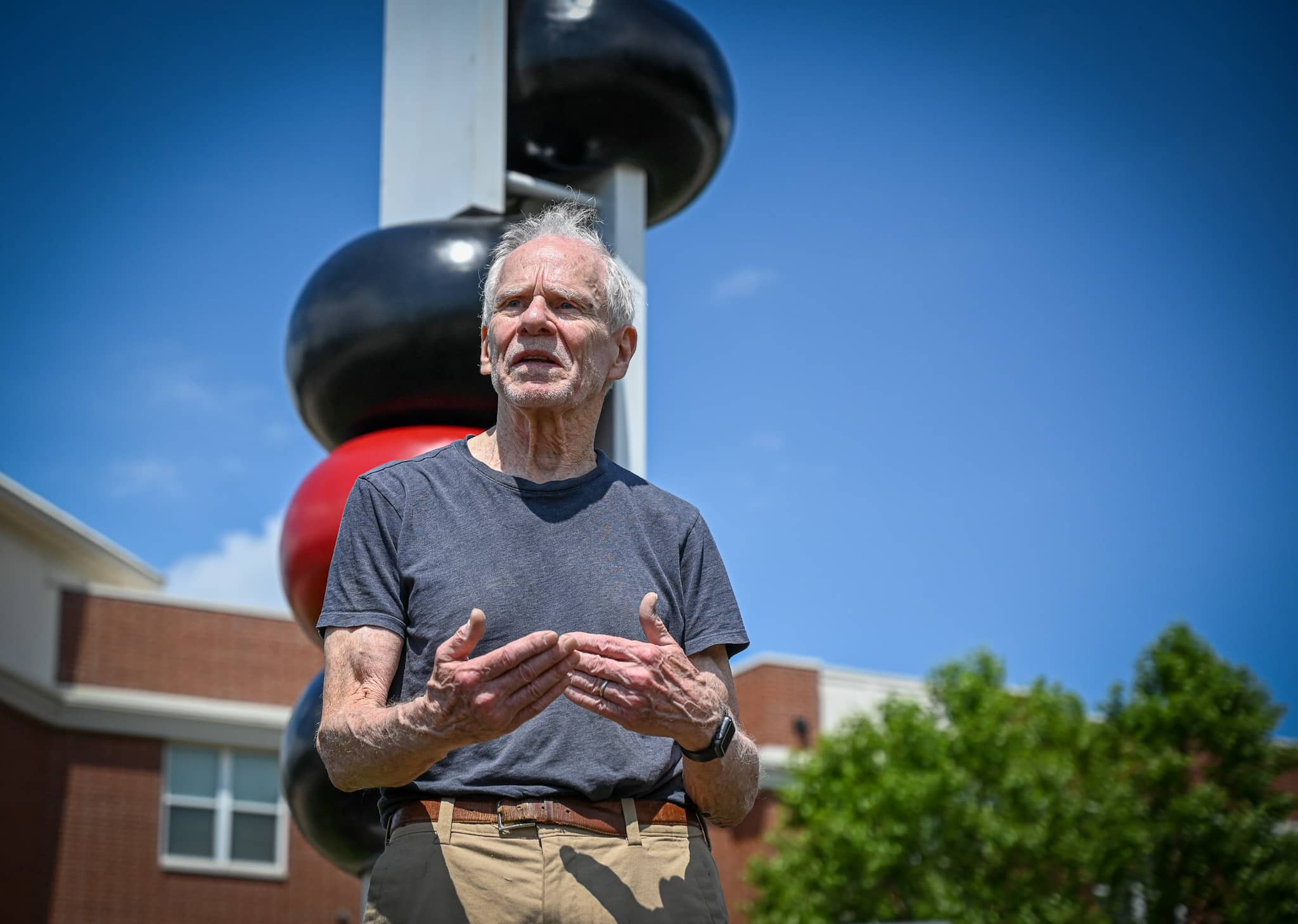 The location at the center of the roundabout is fitting, Newman said, because it allows for the piece to be viewed from every angle.
"It's a sculpture that should be seen from multiple vantage points," said John Groh, president and CEO of the visitors bureau.
Groh said the sculpture fits into the character of the beautiful neighborhood, which has historic, stately homes and the possible redevelopment of the Barber-Colman industrial complex just over the Morgan Street bridge.
"Art creates vibrant places," he said. "Art has a great ability to make you stop and think, make you ponder where you are, to actually slow you down and have you take notice."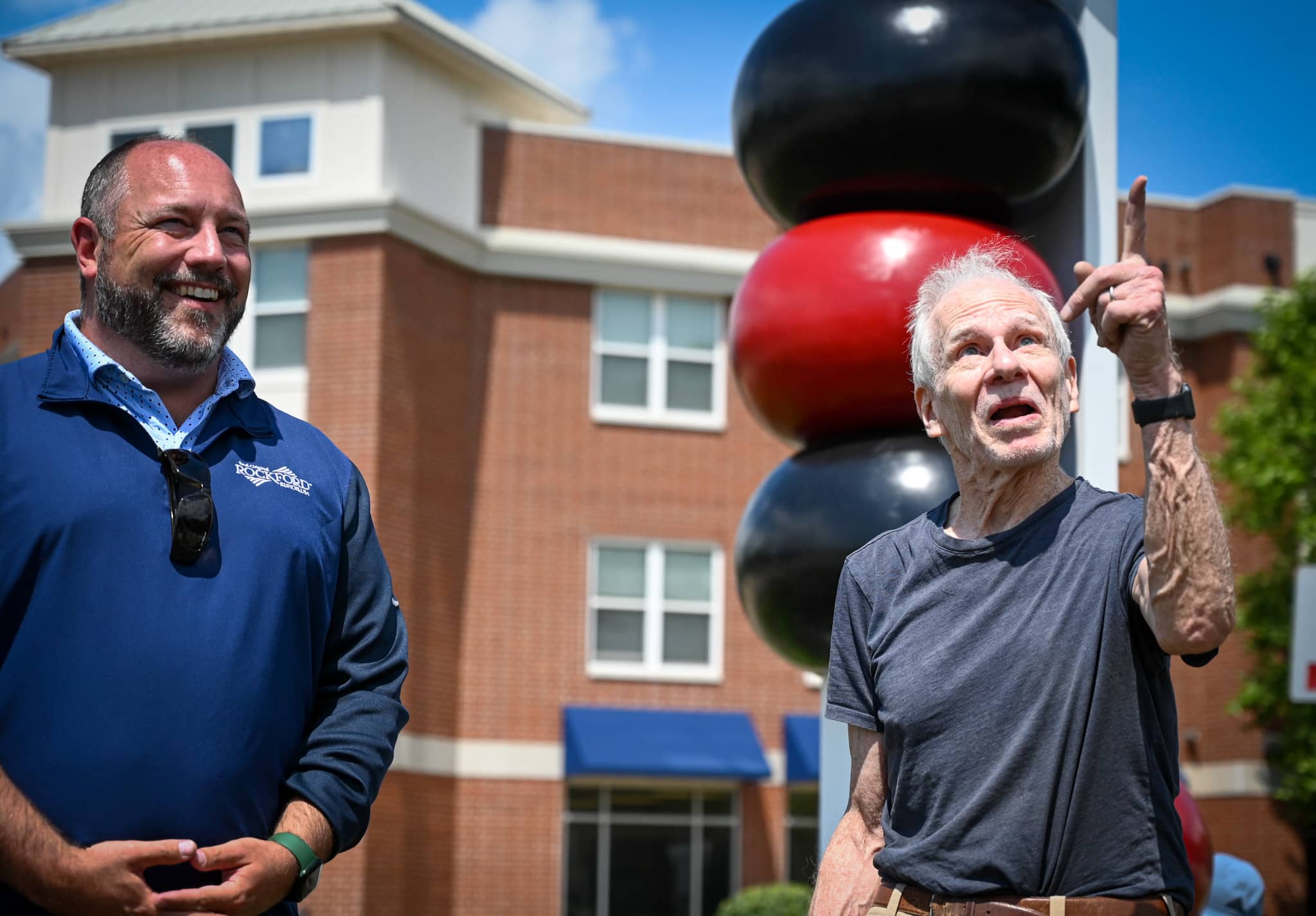 There are 15 sculptures on display as part of the CRE8IV initiative. Newman also donated two others for permanent installation: Two Cubes at State and Avon streets and Column Triangle at State and Third streets.
"We have a very artistic, creative, innovative community and these sculptures and murals are outward expressions of that creativity," Groh said.
---
This article is by Kevin Haas. Email him at khaas@rockrivercurrent.com or follow him on Twitter at @KevinMHaas