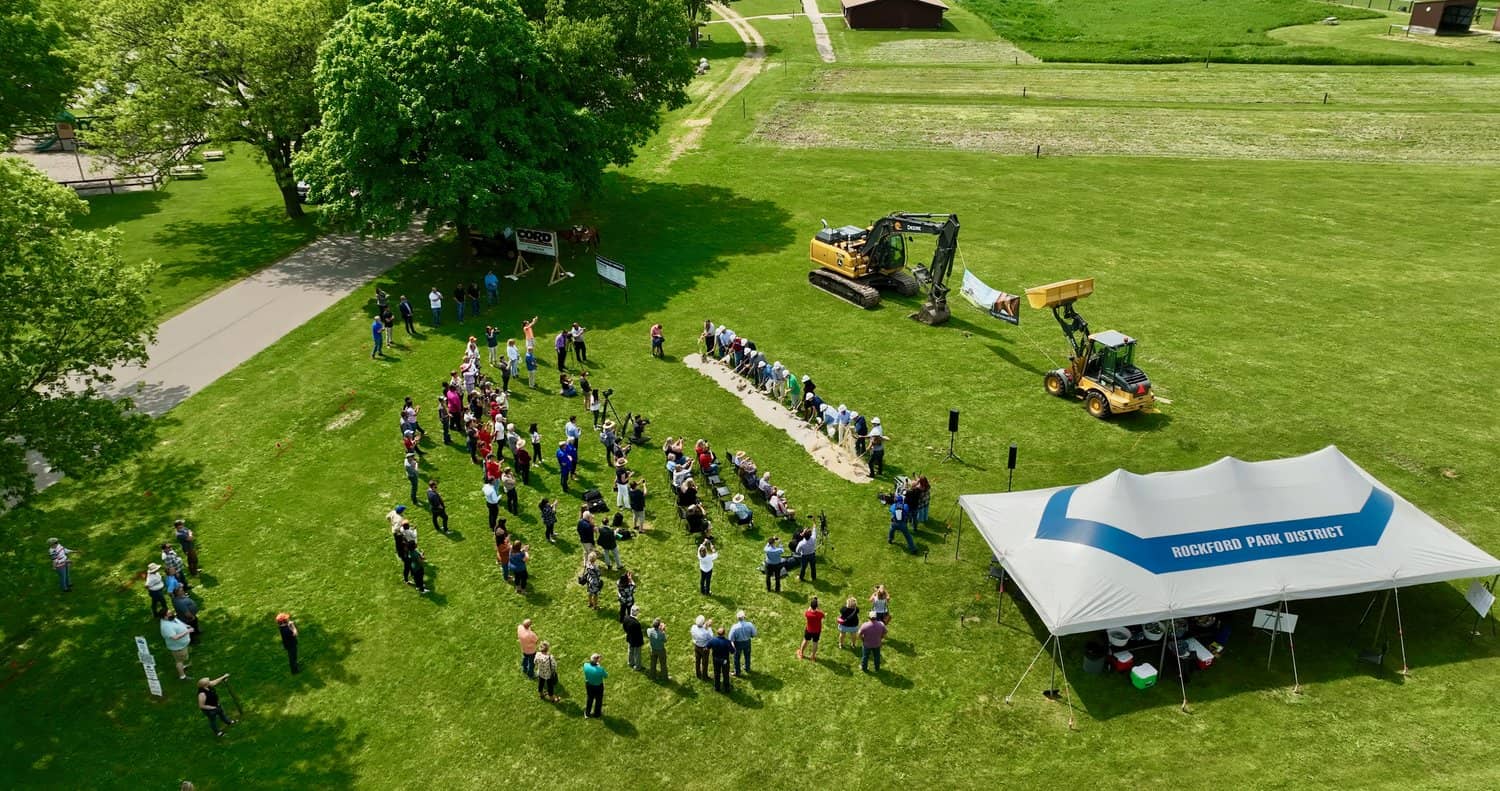 ROCKFORD — The Rockford Park District broke ground on Wednesday on a new indoor equestrian center at Lockwood Park that's designed to help youth cope with trauma, stress or other mental health issues.
The center will also support children with developmental disabilities.
It will be named the Perks Family Equine Center after the family that has spearheaded fundraising. Lach and Doug Perks set the stage for fundraising for the facility with a $1 million donation. The Perks Family Foundation is actively continuing to fundraise for the $10 million project.
"Our family foundation is proud to be a part of this groundbreaking project for our region. We are also lifelong horse people," Doug Perks said in a news release. "We love them. We grew up with them and are still surrounded by them. We feel their healing powers every day."
The family previously supported the Rockford Park District with donations to the Eclipse Lagoon, Nicholas Conservatory & Gardens, Alpine Hills Adventure Park and Levings Park.
"Their philanthropy has made a significant impact on the Rockford Park District's ability to fulfill its mission of helping people enjoy life," Jay Sandine, the Park District's executive director, said in a news release. "The best way we can honor this family who was the driving force behind the vision for the facility is to put their name on it. The Rockford Park District is a stronger organization because of the Perks Family Foundation."
The Perks Family Equine Center, 5201 Safford Road at Lockwood Park, will provide 35,500 square feet of indoor space and include eight horse stalls, an arena, breakout area for horses, offices, classrooms, wash bays, grooming, tack room, laundry, a gathering room, consultation rooms, bathrooms and storage.
The center will also have infrared heat and LED lighting along with a covered drop off at the entrance and parking. There will be outdoor pens for training and holding areas.
Construction is expected to be complete in spring 2024.
The Rockford Park District Foundation aims to raise $10 million to cover the cost of construction and to sustain the facility once complete. So far $5.4 million has been raised.
The foundation said this is its largest capital campaign since fundraising to build Nicholas Conservatory, which broke ground in 2009 and opened two years later.
How to help
Donations can be made by calling 815-987-1675 or online at rpdfoundation.org.
---
This article is by Kevin Haas. Email him at khaas@rockrivercurrent.com or follow him on Twitter at @KevinMHaas.